I don't remember much about Sunday School and church, but we went. When five years old, I once had a difficult day with my brother. Crying, I ran outside to swing and started pumping. I vividly remember pressing my shoes to the sky, thinking, "I'm going to swing  HIGH, so I can get close to Jesus." Why did I think that?
Fast forward to my sophomore year in high school. I fell quickly for the star of the football and basketball teams. We were the couple. By our senior year, he was pressuring for a more intimate, physical relationship. As we sat in the car one night, I remember telling him, "I don't know why I feel this way, but I think I'm supposed to wait until after marriage." Why did I feel that?
At age 20, we married. I watched as he was unfaithful in our marriage, thoughtless toward me, and selfish in his "all-about-me" lifestyle". I silently yearned to make a home for a loving husband and children. We divorced after four years. I remember weeping, crying out to God, "Why is this happening to me? I'm a nice person!" But I had been unfaithful too. Not in my marriage, but to my God. I had been thoughtless, not toward my husband but to my Lord. I had been selfish in my "all-about-me" lifestyle, not in my marriage but to the One who gave His life for me – Jesus Christ. It would be years before I realized this.
Looking for a new home, I drove into a little town in Wisconsin. I told my sister, "This is where I'm supposed to be." She asked me how I could know – it was dark! I couldn't answer then – I just knew.
I can answer now. God.
I was broken, disillusioned, haggard, hardened. But God gently led me here, where I met and fell in love with the kindest young man I had ever known in my life. A patient young man. A balm to my soul. He mirrored Christ to me.
We have been married for 41 years and blessed with five wonderful children.
What have I learned? God is very real. He loves. He pursues. He Heals. He blesses. He saves. He wanted more than my Sundays. He wanted a relationship. That day on the swing as a child, seeing my shoes in the sky? Now I know. He wanted ME.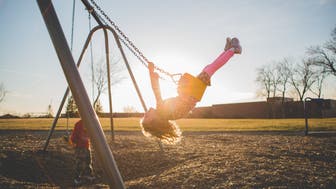 "He reached down from heaven and rescued me; He drew me out of deep waters.  He led me to a place of safety; He rescued me because He delights in me."    Psalm 18:16,19